Gulfstream has selected the Garmin Automatic Dependent Surveillance-Broadcast (ADS-B) in solution for its G280 business jet.
The Garmin GDL 88 ADS-B datalink and Flight Stream 210 provide easy access to the benefits of ADS-B in traffic solution, correlated from multiple sources, together with subscription-free Flight Information Service-Broadcast (FIS-B) weather.
The Garmin ADS-B in solution also integrates with existing TCAS systems and cockpit displays to provide a cohesive and straightforward upgrade.
As part of this ADS-B In upgrade, Gulfstream G280 customers also receive a five-year subscription to Garmin Pilot U.S. IFR Premium.
The GDL 88 and Flight Stream 210 uniquely integrate with existing avionics in the cockpit of the Gulfstream G280 to provide pilots with greater situational awareness. Garmin say the Flight Stream 210 wireless gateway can connect via Bluetooth to at least two mobile devices simultaneously.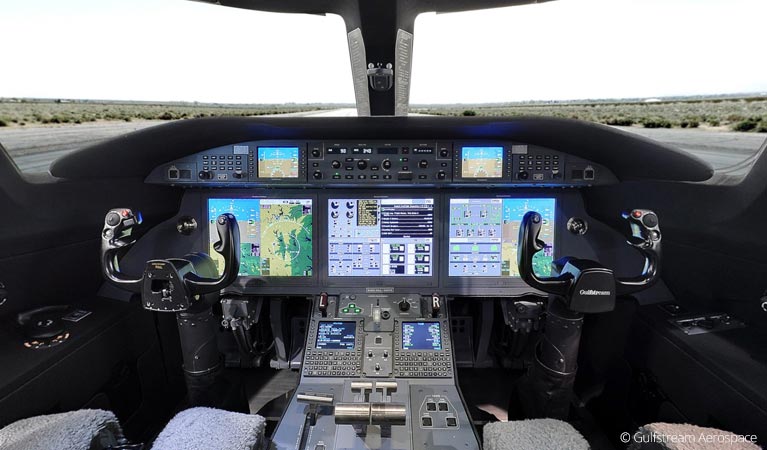 ADS-B In traffic is correlated from multiple sources, including the aircraft's existing TCAS system, offering optimal traffic alerting.
The GDL 88 receives data from nearby ADS-B ground stations and other aircraft on the ground and in-flight and integrates with the aircraft's existing GPS and AHRS.
Pilots can display GPS position data, including velocity, attitude and heading information, alongside ADS-B In traffic and weather utilizing the Garmin Pilot app on iOS or Android mobile devices.
Enhancing the traffic picture, patented TargetTrend and TerminalTraffic can also be viewed within Garmin Pilot. Because the GDL 88 is also dual-link, operators with this solution have the capability to see more aircraft – even those operating at small reliever airports where ADS-B ground stations may not be nearby.
Aural traffic alerts are also an option with this solution. The display of ADS-B In traffic and weather is also available within the FltPlan Go app and ForeFlight Mobile.
In addition to displaying ADS-B In traffic and FIS-B weather, Garmin Pilot provides a comprehensive suite of tools and full-featured navigation for pilots around the globe on both iOS and Android mobile devices.
---
For additional details regarding this Garmin ADS-B In solution, contact a local Gulfstream Service Center. For more information regarding Garmin's suite of ADS-B solutions, contact [email protected]
Available as a forward-fit or retrofit ADS-B In solution, the GDL 88 and Flight Stream 210 offer Gulfstream G280 aircraft operators a simple path to receive ADS-B in.